I love pumpkin spiced lattes as much as anyone, but my favorite autumnal delight is glowing skin. Yes, it's another blog about the fact that fall is a perfect time to schedule laser skin rejuvenation treatments like
Halo™
,
BBL™
,
ProFractional™
, and
Read more
Your goal is to look effortlessly radiant at every age, to "age gracefully," as they say. But the problem with this common aspiration is that too many people mistake "aging gracefully" with not aging at all, which is impossible. "If your goal is to completely erase any sign of aging, so the moment you notice.
Read more
You're reading this blog because you have an instinctive understanding that there's more to cosmetic treatments than meets the eye. Your favorite beauty tools provide a lot more than just a pretty face — they can be healthy, too! Here's a closer look: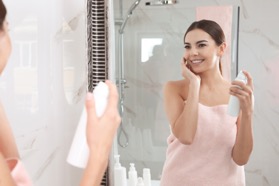 Laser skin treatments and.
Read more