3 Clever Father's Day Gift Ideas Leesburg, VA
If you want to surprise Dad this Father's Day with a gift he'll never see coming, consider a gift card to AVIE! Medspa and Laser Center. A gift card is an easy way to jumpstart Dad's self-improvement goals this summer. Here's a look at three ideas that are sure to please.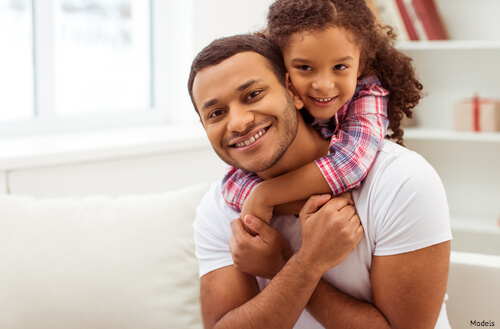 Fat Reduction
If the special man in your life has a spare tire or under-chin fat he'd like to lose, he may be an ideal candidate for our non-invasive fat reduction treatment, CoolSculpting® or Kybella®, the world's first FDA-approved injectable for submental (under chin) fat reduction.
FDA-cleared CoolSculpting uses cooling applicators to freeze away targeted fat. Once Dad's fat cells are frozen, they are gradually purged from the body through his lymphatic system, revealing subtle, natural-looking results. Because this treatment doesn't break the skin, there's little to no downtime, so no one will be able to tell that Dad's had a treatment, which is just the way he likes it. (Actually, it's the way we all like it!)
Kybella involves a series of well-tolerated injections under the chin and reveals optimal results with a series of treatments. Kybella is a non-surgical and minimally
invasive treatment, but it does cause some temporary swelling, which is a sign the treatment is working! We can help Dad determine if Kybella is the right fit for his needs during his personal consultation.
Muscle Toning
Does the special man in your life feel okay about his weight but a bit bummed out by his lack of definition in certain areas like his abs? If the shelter-in-place order did a little "damage" to Dad's body image, he may be ready for a non-invasive muscle toning treatment called EMSCULPT®. EMSCULPT uses HIFEM™ (high intensity electromagnetic) technology to stimulate thousands of muscle contractions where Dad needs it, triggering muscle fibers to strengthen and firm up, revealing a more toned and defined physique without the workout.
This month is the ideal time to shop for Dad, while we're offering 25% off four cycles of CoolSculpting, and you can save $1,200 off a series of four EMSCULPT treatments or $2,300 off a series of six EMSCULPT treatments.
Hair Restoration
If the man in your life has expressed concern over his thinning hairline, a common condition called androgenic alopecia, then he may be a candidate for PRFM Hair Restoration. Here at AVIE!, we take the power of platelet-rich plasma (PRP) a step further by providing PRFM, or platelet-rich fibrin matrix, which is a purer and more potent form of PRP to help Dad achieve next-level results. Depending on Dad's goals, he'll need to undergo a series of treatments, but we can help him devise the ideal regimen for his needs during his personal consultation. The greatest thing about PRFM is that it's totally natural, using Dad's very own blood to achieve a thicker, fuller head of his very own hair. Dad can feel confident knowing he's enjoying all-natural — and natural-looking — benefits without the hassle or risk of other hair treatments.
To learn more about these treatments and any other services on our menu, or to purchase a gift card to our medspa, please call 703.870.3844 or create a gift card on our website. You may also request a consultation online today! We can't wait to help you!
— Kim