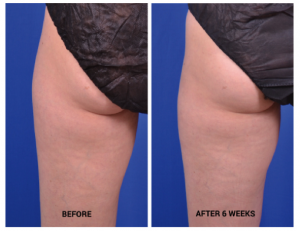 Here at AVIE! MedSpa and Laser Center in Leesburg, VA we want you to fall in love with your body this autumn. What better way to go about it than with a noninvasive approach that requires no downtime or surgery? Recently featured on The Doctors, CoolSculpting is the answer to lose fat from areas that refuse to shrink with diet and exercise.
While we've been using CoolSculpting to reduce stubborn belly fat and love handles for some time, the manufacturer has recently advanced their cooling technology with their new applicator, the CoolSmooth. At Avie MedSpa and Laser Center in Leesburg, VA, we can now safely and effectively reduce fat on the outer thighs, also known as the saddlebags, as demonstrated on The Doctors.
CoolSculpting for the outer thighs begins by marking the area to be frozen and then a foam ring as well as a specialized gel pad is placed to protect the surrounding skin. The applicator is then set in place and the process is started.
"It turns out fat is much more sensitive to cold than skin. So if you lower the temperature and freeze the fat you can kill the fat without affecting the skin," The Doctors segment stated.  The fat cells that are killed during the process are eliminated naturally over the course of a few months.
Want to know what CoolSculpting for the saddle bags can do for you? Call 703.870.3844 to schedule your consultation!