One of the most common concerns we see from our clients at AVIE! is the desire for tighter, smoother and younger-looking skin, which is why we are proud to offer Alastin® TransFORM Body Treatment with Tri-Hex Technology®. Our very own Kim Marinetto, AVIE! founder, registered nurse and Master Aesthetician, has seen the positive effects on her skin from Alastin TransFORM! This clinically proven, medical-grade skincare product is designed to complement and enhance the results of your body contouring and skin tightening treatments. We are excited to share that this new study, published in The Aesthetic Surgery Journal (ASJ), found that TransFORM also provides "skin smoothing effects and the appearance of more youthful-looking skin when used twice daily, without any procedures."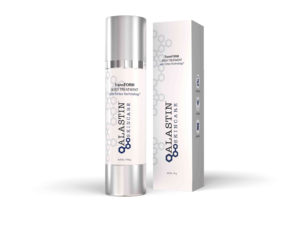 To summarize…
The study was led by Dr. Jean Carruthers, a world-renowned researcher and icon in the medical aesthetics industry. Specifically, this study analyzed the difference in results between participants who used TransFORM Body Treatment on their forearm and those who used a bland moisturizer on their forearm, twice daily over three months. Compared to the arms treated with the bland moisturizer, arms treated with TransFORM showed higher amounts of new collagen and elastin and stimulation of a receptor associated with the formation of new hyaluronic acid.
What the study found:
Jean Carruthers, MD, explained the results, saying, "TransFORM was shown to be more effective than the bland moisturizer in rejuvenating aging/sun-damaged skin and had a pronounced effect on the product of new collagen and elastin." She also noted that "TransFORM had an even more pronounced effect on the level of smoothness and production of new collagen and elastin on non-sun exposed skin."
What it means for you:
What this means, Carruthers explained, is that the concept of "prejuvenation" (early treatment to prevent the appearance of aging skin) is supported by these results. In fact, early treatment of the skin with a product like TransFORM, before extensive sun exposure, could help strengthen skin and reduce signs of aging even after sun exposure. This finding is made even more significant by the fact that sun exposure is the cause of 90% of skin aging!
Keeping you in the loop on the newest updates and clinical results possible with our services and products is a key part of our mission at AVIE! We believe in the power of the informed consumer, and of course we can't wait to share such positive results with you to help you better understand the transformational possibilities available when you invest in yourself at AVIE! Medspa & Laser Center.
To learn more about TransFORM Body Treatment and our many other rejuvenating and PREjuvenating treatments, reach out to our team today at (703) 870-3844 or request a personal consultation online!