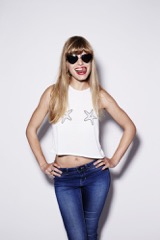 We want you to have that skinny jean confidence. You know, that feeling when you put on your favorite pair of skinny jeans, look in the mirror, love the way you look, and actually feel comfortable in your jeans! We know far too well that feeling of putting on a pair of skinny jeans and feeling uncomfortable and less than confident, but that can all change thanks to CoolSculpting®!
CoolSculpting at AVIE! is FDA-cleared to target the main areas that can make or break skinny jeans confidence. These areas are the love handles, outer and inner thighs, muffin top, belly bulge, and banana roll (underneath the buttocks). CoolSculpting can trim these areas that reduce your confidence so your pants can fit you better!
During CoolSculpting, the fat cells in the treatment area are frozen, without harming any of the skin or tissue in the surrounding area. The fat cells are then naturally eliminated through the body's lymphatic system. You can see noticeable improvements in fat reduction over the weeks and months following your treatments.
As the premier body contouring destination in Northern Virginia and a Certified CoolSculpting Provider, we have performed over 1,600 CoolSculpting treatments and over 2 million treatments have been performed worldwide!



What are you waiting for? Feel skinny jean confident! Call 703.870.3844 to schedule your CoolSculpting consultation!