If you're laying low this season by staying close to home, kudos for keeping yourself and those around you safe. Since our job is helping you look and feel your best, we wanted to suggest a strategic way for you to spend your nesting time this winter: While you are hunkering down, why not turn your home time into scheduled downtime from that aesthetic treatment you've been wanting for ages? Here's a look at just a few aesthetic treatments that reveal marvelous results but do entail some downtime.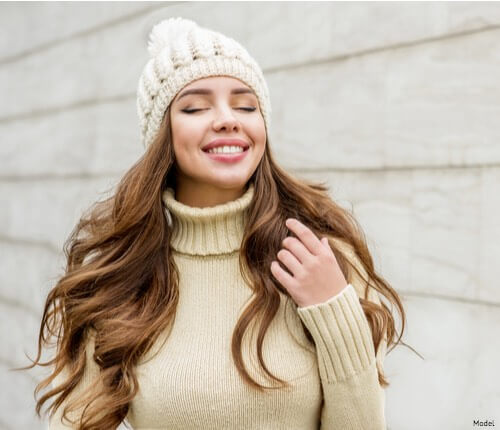 While watching that entire documentary, you could be recovering from Kybella®, the world's first FDA-approved injectable for submental fat reduction! Kybella treatments involve a series of tiny pricks under your chin. These pricks administer a modified form of deoxycholic acid, a natural fat-busting molecule in the body, to your target area. The treatment is relatively quick and simple but results in significant swelling. Swelling is actually a great sign because it means your Kybella treatment is working! But it's nice to be able to lay low at home until this swelling subsides.
While you're cuddling up during those long winter nights, you might try serious skin renewal with the world-famous Halo™ laser skin treatment! The Halo glow is a real thing! This treatment stimulates renewal at multiple levels within your skin, resulting in a wide range of complexion improvements, including smoother, brighter and more evenly toned skin. Depending on the intensity of your treatment, you could experience a week of redness and peeling.
Have you been thinking about blepharoplasty? This may be your time to finally do it! An eyelid lift at AVIE! is an outpatient procedure performed under local anesthesia by our medical director, Dr. Khalique Zahir. As a board-certified plastic surgeon, Dr. Zahir has years of experience helping patients achieve the look they desire with minimal downtime. An eyelid lift can help correct skin that droops over the eyelids, improve bags or puffiness under the eyes and reduce wrinkles around the eyes. To learn more about blepharoplasty, please don't hesitate to call us for a personal consultation!
During this busy holiday season amid a pandemic, please be assured that we are taking every precaution to ensure your health and safety. Please call us with any questions you may have on treatments or products. You can also secure any discounts simply by calling us to pre-purchase your products and/or treatments over the phone on the day of the sale. We can also arrange for curbside pickup of products. Simply call us at 703.870.3844, go online or request a consultation today.