We get excited about our medical-grade skin care products here at AVIE! because we know they work, and we are super excited for you to experience the results for yourself! As you may have heard from us during your visits, we always recommend applying certain results-driven skin care after your treatments with us, such as after your Halo™ or injectables session. Some of you may be skeptical and secretly think it's a ploy to get you to spend more, but we promise we are truly trying to help you get the best possible results. The honest truth is that the right skin care products can reduce your downtime and enhance your aesthetic benefits big time!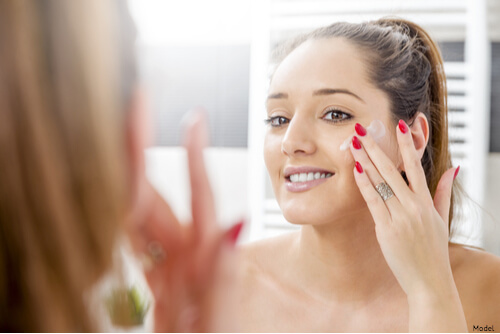 Here's a closer look at Alastin®, a skin care line we adore because it's formulated to be used in tandem with professional skin care treatments to literally boost your results, speed healing, minimize downtime and reveal a truly amazing glow.
Regenerating Skin Nectar with TriHex Technology®
"Nectar" is such a perfect name for this skin care product! We eagerly apply every last drop of this nectar after skin rejuvenating procedures like lasers, IPL, microneedling or chemical peels because it helps calm our skin and speed healing while also maximizing our procedure results.
How it works: Alastin's patented TriHex® Technology helps support the skin's natural ability to clear out damaged elastin and collagen and pave the way for healthy new collagen and elastin growth.
INhance Post-Injection Serum with TriHex Technology
INhance Post-Injection Serum with TriHex Technology is one of Alastin's most recent inventions, and we are obsessed! As its name clearly states, INhance Post-Injection Serum is specially formulated to be applied after your injectables session to help mitigate bruising and swelling, but this serum does so much more.
How it works: Thanks to patented TriHex Technology, INhance also helps boost your skin's production of new collagen and elastin growth while plumping and hydrating skin, improving its overall quality and texture.
Restorative Skin Complex with TriHex Technology
If you're undergoing treatments to help lift and volumize your skin, you'll definitely want to add Restorative Skin Complex with TriHex Technology to your daily regimen! This amazing formulation is the flagship product of Alastin's Restore and Renew line to help combat all the visible signs of aging.
How it works: This hydrating formulation features TriHex Technology along with a synergistic blend of proven ingredients such as antioxidants, which all work together to boost new collagen and elastin growth for impressive benefits, including:
● Improving the look of fine lines and wrinkles
● Restoring volume to thinning skin
● Improving skin elasticity
● Evening skin tone
● Protecting skin from further damage
Be honest: Now that you know a bit more about Alastin skincare, are you eager to stock up? We were too, and we can help you choose the best products for you when you visit. Keep in mind that Alastin is non-comedogenic, so it's suitable for even the most sensitive skin types. Get started today by calling 703.870.3844 or requesting a consultation. See you soon!