At last month's New York Fashion Week, "crop tops" were spotted on the runway in the collections of Tracy Reese, Lela Rose, Marc Jacobs and more. Belly baring has suddenly become a chic fashion statement for fall. We want to know – will you be trying out this daring trend, or forgoing the fashion statement due to insecurity about your abdomen?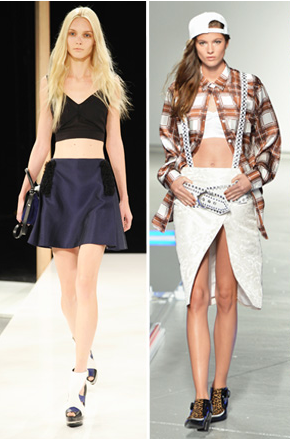 Here at AVIE! In Leesburg, we can help you wear your crop top with confidence, thanks to the new, revolutionary fat reduction process
CoolSculpting®
. FDA-cleared CoolSculpting® can eliminate unwanted belly fat like love handles, "muffin top", belly bulge and more, all without surgery or downtime. Best of all, it offers clinically proven and permanent results in the area or areas treated. In just one hour-long treatment, you could be on your way to crop top confidence!
CoolSculpting® works by freezing fat cells beneath the surface of the skin, but without damaging the skin itself. In the weeks and months following treatment, gradual yet dramatic fat reduction results can be seen.  As a special gift to our clientele, we're offering $200 off CoolSculpting® for two or more areas this month at AVIE!
Curious what CoolSculpting® can do for you? Schedule your free consultation by calling (703) 870-3844 or emailing
info@https://aviemedspa.com
.