Exercising your skin is a lot like exercising your body – you wouldn't go to the gym for 3-4 months and expect those results to last if you didn't continue to work out, would you? You have to be proactive if you want to enjoy a beautiful, youthful complexion in the years.
Read more
While the skin on the face is visible all year round,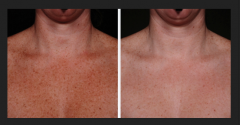 prompting many of our clients to "exercise their skin" with regular medical spa skincare treatments and products, spring and summer can present a unique challenge. Suddenly the arms, legs and stomach are.
Read more