As many of us are starting to work in an office again after a stressful year in quarantine and distancing, we challenge you to start loving your body exactly as you are. We know that may sound a little strange coming from a medspa, but our services and body positivity truly go hand in hand! Here's why.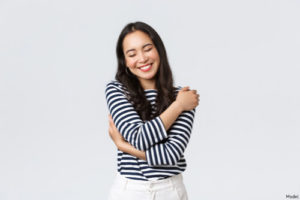 Body positivity is healthy.
Heading back to the office should lead to increased feelings of self-consciousness, but we know that can be easier said than done! That's why we're here to remind you that self-acceptance has many proven health benefits, including decreasing stress and boosting overall happiness and confidence. Body positivity is about more than just loving your body. It involves accepting every aspect of yourself, from your hair to your skin to your personality and beyond. The team at AVIE! Medspa & Laser Center wants you to know that you are perfect and beautiful exactly as you are, even if you don't always feel that way.
You can enjoy aesthetic services while embracing body positivity.
As we venture back into the office and more in-person events, it's important to remember that loving and accepting yourself doesn't mean you can't also desire aesthetic treatments — they actually complement each other perfectly! Embracing body positivity means you can be happier and more content with your aesthetic treatments and results. Would it help you feel happier, more confident or more relaxed to treat yourself to a HydraFacial®, chemical peel or non-invasive body contouring? Then we encourage you to go for it! Loving yourself is a healthy starting point for every service we offer because they are all self-care tools intended to enhance your life, not change who you are.
Sometimes, all we need is a push to get started.
We are all our own harshest critics — it's so easy to focus on the negatives and our perceived "faults"! If you can't remember a time when you looked in the mirror and didn't have a negative thought about yourself, then it is definitely time to embrace body positivity and invest in self-care with expertly administered aesthetic treatments here in Leesburg.
Our team of passionate, highly skilled and supportive staff at this female-owned and operated practice could be the extra push you need toward self-love and confidence. For example, one of our favorite things to do is combine much-needed self-care with savings. That's why, this month we're offering one FREE CoolSculpting® treatment when you purchase three OR you could save up to $500 when you book an EMSCULPT NEO® consultation with us this month!
CoolSculpting non-invasive fat reduction can help you slim and trim notoriously hard-to-lose areas of excess fat that could be keeping you from feeling confident or comfortable with your contours. CoolSculpting uses a fat-freezing process called cryolipolysis to gradually freeze and disable the targeted fat cells, resulting in natural-looking results with a series of treatments and little to no downtime!
EMSCULPT NEO non-invasive body sculpting can help you see noticeably more toned and firmer abs, thighs, calves, arms or buttocks without spending countless hours at the gym. EMSCULPT NEO is actually the first and only non-invasive body sculpting treatment to simultaneously reduce fat and build muscle in four 30-minute treatments spaced about one week apart. Best of all, it requires no downtime!
If you're looking for more self-care ideas, we've got a bunch, including:
● Botox®
● Dermal fillers
● Kybella® submental fat (chin) reduction
● Microneedling
● Laser skin rejuvenation
● Vivace™ Micro Needle RF, and so much more.
To get started, just give us a call at (703) 870-3844 or request a consultation online today.