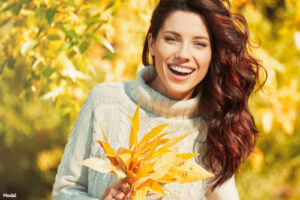 It's time for pumpkin-spiced lattes and colorful leaves and cozy sweaters! We LOVE everything about the fall in Northern Virginia! But we also know that the cooler temps are a call to action for us to update our skin care products ASAP. As the thermometer drops and indoor heat turns on, it's almost like magic how our once radiant and dewy complexions become dry, flaky and irritated. It's like a spell has been cast, and it's NOT FAIR!
Well, it's time to take your skin back, and we're here to help! Here are Kim's top two skin saving strategies to start NOW:
1. MEDICAL GRADE MOISTURIZER
No, it's not rocket science, but you'd be surprised how many people forget to switch their moisturizer in the cooler months. We get it; once you find a moisturizer you love, you want to stick with it. Unfortunately, the moisturizer that works beautifully in humid and hot weather isn't substantial enough for the drying winter months. We can help you make the switch during your next appointment, but in the meantime, the gist is switching from a gel or light moisturizer to a more potent hydrating product that's formulated to provide intense and lasting hydration. A few good things to keep in mind: 1) Steer clear of abrasive exfoliating products or AHA's, which can exacerbate dryness and irritate skin by disrupting your skin's natural balance of oils; and 2) avoid scented products, which are irritating to skin. We at AVIE! recommend SkinMedica® TNS Ceramide Treatment Cream for extreme dry-skin conditions!
2. CONSISTENCY
Now that the cat is out of the bag, it's time to remember to apply your new moisturizer daily! Your skin is your largest living organ, but it's also quite helpless against the elements, and it depends on YOU to keep it looking and feeling its best. For example, after your morning shower while you are still a bit damp, slather on a rich body moisturizer to seal in that vital hydration. At AVIE!, we recommend Alastin® Transform Body Treatment with TriHex Technology to help with crepiness and SkinMedica® Firm & Tone Lotion. These not only help with hydration but help to prevent and correct aging skin on the body. These are Kim's personal favorites!
Every night before bed, applying moisturizer should be your last step. The amazing thing about sleep is that it's prime time for your skin to renew and repair itself. We LOVE beauty sleep!!! This is why bedtime is such a great time to apply all those results-driven and super replenishing medical-grade skin care products! While you slumber, your skin absorbs the moisture and is busy putting all those revitalizing and restorative ingredients to work so you can wake with skin that looks and feels renewed, supple and radiant.
For more tips on achieving your best skin, we are here to help! Discover glow-getting treatments, moisturizers that work overtime and so much more by calling 703.737.0197 or requesting a consultation online today.