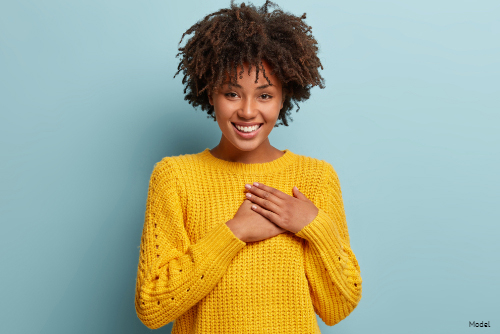 It's that time of year again to talk about all things turkey — oh, and thankfulness because Thanksgiving Day is upon us! Yes, it's officially the season for gratitude! Are you feeling it? Gratitude is a fascinating emotion because it happens to be super good for our mood, our health AND our looks!
This year, we're thankful that FEELING thankful helps boost:
Our immune system
By counteracting stress, which lowers your immunity, gratitude can help strengthen your body's ability to fend off illness. One study in 2017 even showed that having an attitude of gratitude helped reduce the risks associated with heart failure.
Our complexion
Feeling more gratitude also helps lower stress, which in turn lowers your body's inflammatory response. As you probably know, inflammation is a key player in the formation of acne and excess sebum/oil, so lowering it helps keep your skin in the clear. What's more, feeling gratitude also helps improve your happiness by lowering levels of anxiety and depression, and when you're feeling happy, your body releases endorphins, or happy chemicals, which help spur healing and blood flow throughout your body. Could happy chemicals be the reason your cheeks are a rosy hue today? It's certainly possible!
Our love life!
We're serious! There's actual research on this. Studies confirm that practicing an attitude of gratitude can help improve your ability to form relationships or strengthen existing ones!
In romantic relationships, gratitude can help partners feel more satisfied with each other. In fact, in a 2010 study, partners who demonstrated gratitude with each other reported increased relationship satisfaction and happiness the next day.
Is gratitude not your jam?
No worries! You can improve your attitude of gratitude, even if it doesn't come naturally to you, by practicing little gratitude exercises. Jotting down things you are thankful for and regularly thanking people who help you throughout your day are two simple ways to boost your gratitude quotient in a jiffy.
Last, but not least, all of us at AVIE! are feeling especially thankful for you, our amazing clients. We're also thankful for your health and ours! We hope you have an amazing Thanksgiving this year!
To learn more about our services, please call 703.737.0197 or request a consultation online today. We can't wait to hear from you!