Want to know why we carry the products and services on our menu at AVIE! Medspa? It's because each one can contribute to someone's personally tailored recipe for aesthetic and wellness success! At AVIE!, there is nothing we love more than helping people achieve their own ideal transformations. That's why we are thoughtful and particular about the services we offer.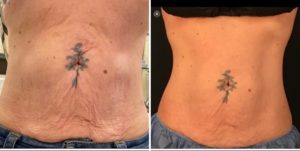 Take EMSCULPT NEO® non-invasive body sculpting, for example. The woman in this before-and-after photo is a 46-year-old client who underwent four EMSCULPT NEO treatments to the abdomen, four EMTONE® treatments to the abdomen, and applied Alastin® TransFORM body treatment twice a day (morning and night). These photos were taken one month after her last treatment. Every person's recipe for success is customized to their needs, but as you can see, this kind of comprehensive, expertly administered treatment regimen can reveal incredible results!
When trying to imagine a personalized recipe for success, it can be hard to know what that really entails. That's why our very own Kim Marinetto, RN, master aesthetician and founder of AVIE!, is excited to share her personal experiences, success and expert advice!
Kim, what contributed to your personal transformation?
1. ProLon®: My journey to a healthier and more fit self began with ProLon FMD (fasting mimicking diet) in October 2019. It helped reset my metabolism and reset stem cell pathways to reverse any potential illness patterns. I did ProLon for one week each month, for three to four months. Between each ProLon week, I started to do intermittent fasting daily, and added exercise to my routine.
2. EMSCULPT NEO & Alastin TransFORM: I continued to lose weight and added EMSCULPT NEO in January 2021 to build muscle. I have also been using Alastin TransFORM body treatment to address firming and toning. It has helped to preserve and maintain my results, while also providing a final push toward my body goals. It works amazingly well!
3. An empowering female support system: Ultimately, I feel that my team — women empowering women — gave me the motivation and courage to stay the course. After all, total body confidence starts from within!
Kim, what advice do you have for others embarking on a personal transformation?
There is no one thing that is going to change your body. Ultimately, you must have willpower, specific goals and an effective, strong support system. I'm thankful to my awesome team of women who have supported me in my goals!
If you're looking for not only aesthetic and wellness expertise, but also a support system of women empowering women to help you throughout your transformation, I want you to know: That's what we do at AVIE!
Learn more and begin your own transformation today by reaching out to us at (703) 870-3844 or requesting a personal consultation online. We can't wait to see you soon!
— Kim