At AVIE!, we recommend photofacials for a non-invasive, minimal downtime skin rejuvenation treatment to improve pigmentation issues, and result in younger-looking skin. Photofacials can treat the skin using IPL or BBL technology, however BBL photofacials in Leesburg provide stronger, more customized treatments for glowing skin!
A BBL photofacial at AVIE! Medspa is twice as powerful as an IPL treatment. BBL technology allows for temperature controlled treatments, providing individualized care based on the severity of each person's unique skin conditions. The Forever Young BBL Study has shown that BBL photofacials in Leesburg alter the skin's cells to produce younger-looking skin. The founder of BBL technology, Dr. Patrick Bitter, trained our very own AVIE! Master Aesthetician Kim to perform high quality, custom BBL treatments.
Leesburg BBL photofacials can treat age spots, freckles, fine lines, brown spots, melasma, redness, and broken capillaries on the face, neck, décolletage, and hands. A BBL photofacial treatment at AVIE! will not only improve the appearance of fine lines and pigmentation issues, it will change the genetic make up of your skin's cells to produce more youthful looking skin!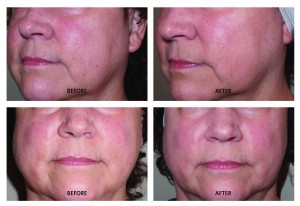 Experience the difference with BBL photofacials in Leesburg, VA at AVIE! Medspa and Laser Center. Call 703.870.3844 to schedule your BBL photofacial consultation.