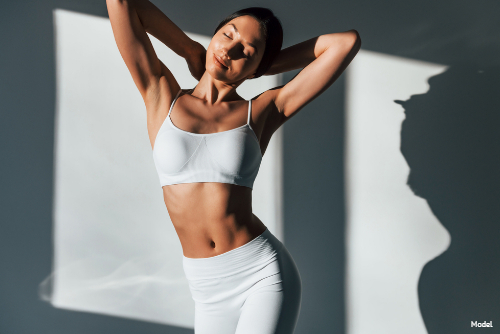 The coolest way to bust stubborn fat just got a whole lot cooler! We're thrilled to announce that the most advanced CoolSculpting® technology yet is now available at AVIE! With redesigned dual applicators, CoolSculpting Elite non-invasive fat reduction treatment uses controlled cooling to target and eliminate more fat cells than ever before in a shorter amount of time than its predecessor.
Let's take a closer look at the Elite difference:
New and improved technology.
CoolSculpting Elite offers several improvements over the original CoolSculpting technology. The Elite version features dual applicators, which allows for more tissue to be treated in a single session. These completely redesigned applicators also feature C-shaped cups with seven different shapes and sizes for improved fit to your natural curves. The result is more precise, comfortable treatments and better results. Additionally, CoolSculpting Elite has updated software and user interface, making the treatment more effective and efficient.
Even more fat-freezing benefits.
CoolSculpting Elite can take your results further than ever before. Its newly designed dual applicators allow you to treat two areas at once, removing 20-25% of targeted fat in a single treatment and treating up to 18% more tissue than traditional CoolSculpting. That's improved fat reduction on nine FDA-cleared areas of the body, including:
Flanks (love handles)
Abdomen
Thighs
Upper arms
Back fat
Bra fat
Under the buttocks (banana roll)
Once CoolSculpting Elite's controlled cooling technology disables your targeted fat cells, they're naturally flushed from your body in the weeks and months following treatment, revealing gradual, natural-looking improvement to your contours.
Same dedication to investing in the latest technology!
With 4,800 treatments under our belt and counting, AVIE! has been a CoolSculpting-certified center since 2013 and is the premier destination for all your body sculpting needs. We're proud to now offer CoolSculpting Elite to those who want to achieve a more sculpted physique without surgery or downtime. With the most advanced CoolSculpting technology on the market at our fingertips, we can better tailor your treatment to meet your body's exact needs and goals for long-lasting results.
Ready to learn more and get started? Discover the Elite experience today by calling 703.737.0197 or request a consultation online!