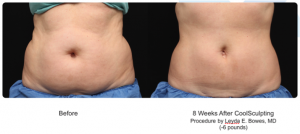 Avie! Medspa & Laser Center in Leesburg, VA is proud to announce that there have been 1 million CoolSculpting treatments performed worldwide! We're sure by now you've heard the beauty buzz about this amazing, safe and effective FDA-cleared technology. If you're looking to reduce fat with no surgery and no downtime to look your best for the holiday season and in the new year, look no further than CoolSculpting at Avie!
AVIE! Medspa is a Certified CoolSculpting Provider, having performed over 700 treatments in Leesburg, VA! CoolSculpting contours your body non-invasively by freezing and eliminating fat cells, making it the perfect solution for stubborn bumps and bulges that resist diet and exercise.
CoolSculpting results are noticeable and long-lasting, and CoolSculpting is the only FDA–cleared fat reduction treatment of its kind. Developed by scientists at the Wellman Center for Photomedicine at Massachusetts General Hospital – a teaching affiliate of Harvard Medical School – in Boston, CoolSculpting targets and freezes fat cells underneath the skins surface without harming the skin, allowing these cells to die over time and your body to eliminate them naturally.
Leesburg, VA clients can enjoy a CoolSculpting treatment at Avie! MedSpa. As the premier center for CoolSculpting in northern Virginia, our patients have received treatments on areas such as…
–       Muffin top
–       Love handles
–       Inner thigh fat
–       Saddle bags
–       Belly bulge
–       Bra roll
–       Back fat
–       …and more!
Each treatment has visible results that continue to improve over the following months. For some, CoolSculpting may be an alternative to liposuction in Loudoun County.
If you are unhappy with your shape, and diet and exercise are simply not cutting it, CoolSculpting from Avie! MedSpa may be your answer. Rid yourself of unwanted fat and bulges and be on your way to getting the figure you have always imagined. Your slimmer, trimmer body is now attainable without surgery or downtime!
Interested in looking slim and stunning for this upcoming holiday season? Call 703.870.3844 to schedule your consultation!