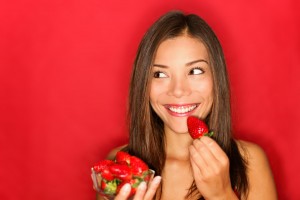 We all know eating healthy is the key to feeling energized and losing weight. But did you know that eating healthy can have countless benefits for your skin? It's true! An overall healthy diet can result in great skin and there are certain foods that can boost your skin's natural radiance for your brightest glow yet!
For smoother and younger-looking skin, your diet needs to consist of healthy fats such as omega-3's and omega-6's found in foods such as extra virgin olive oil, fish, and walnuts. These healthy fats can improve dry skin and blemishes by maintaining your skin's oil barrier.
Selenium, a mineral found in shrimp, lamb, tuna, salmon, oysters, and crab, can protect your skin from free radicals. Protecting your skin from free radicals can help prevent dry skin, wrinkles, and tissue damage. Anti-oxidant rich foods such as spinach, berries, peppers, tomatoes, and more can also prevent damage caused by free radicals.
Vitamins are also essential to keeping your skin healthy and glowing. Vitamin A can reduce dry, flaky skin for smooth, hydrated skin. To get your Vitamin A try carrots, eggs, and leafy greens! Vitamin C found in citrus fruits, broccoli, and red bell peppers can protect your skin against sun damage. For even more protection against sun damage, eat foods rich in Vitamin E! Spinach, asparagus, nuts, and seeds all contain high amounts of Vitamin E that can also remedy inflammation.
What are you waiting for? Start eating your way to beautiful skin!
To enhance your skin's natural glow, contact AVIE! Medspa about our skin rejuvenation treatments. Call 703.870.3844 today!