Have you heard the beauty buzz about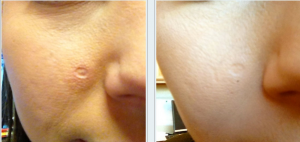 Microtherapy at AVIE! MedSpa & Laser Center in Leesburg, VA? Kim says, "We're seeing incredible results with Microtherapy! Also called 'collagen induction therapy' because it stimulates skin to produce its own collagen, the building block of youthful skin, it's helping our clients look years younger. It can also easily be added onto one of our peels or a microdermabrasion, making it a popular combination treatment to get glowing skin for the holidays."
Microtherapy works by making very small "micropoints" in the skin, which stimulates the body to rapid repair by producing collagen and boosts product absorption. The result is smoother and dramatically younger-looking skin with minimal to no downtime. In addition to impressive results, Microtherapy can improve a variety of skin conditions like wrinkles, fine lines, acne scars and stretch marks. Microtherapy also poses a very low risk of side effects and is safe for all skin tones and types. Microtherapy can even be used to treat the fragile skin around the eyes, mouth and on the neck. "Our patients are loving the results for fine lines around the eyes," Kim adds. Lastly, it's one of AVIE!'s most affordable skin rejuvenation options, but you don't have to sacrifice quality for cost.
New Beauty Magazine recently said, "Skin will be tighter, firmer and smoother after recovery. The skin heals without any scars, similar to how it recovers after IPL or a superficial chemical peel." The treatment was also recently featured on The View – watch the video here.
Curious what Microtherapy can do for you? Schedule your free consultation by calling (703) 870-3844 or email info@https://aviemedspa.com.