Kim Marinetto, Master Aesthetician and owner of AVIE! MedSpa & Laser Center in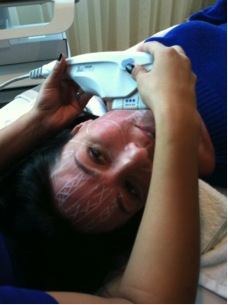 Leesburg, VA, has more than one reason to be excited about Ultherapy, the new, non-surgical facelift alternative available at her medical spa in Loudoun County. In addition to helping her clients look younger without surgery or downtime, Kim has enjoyed the benefits of Ultherapy, as well.
"Before I had the face and neck treatment done, a lot of people said to me 'you don't need it!' she says, "but after seeing the results, they are amazed at the difference and so am I. I have noticed my skin is brighter and tighter, and it can only be from the Ultherapy. The 'wow' factor is definitely there, as I see so much more definition and contour around my jawline. It's kept the aging process at bay."
About the treatment itself, Kim is open about the process. "There is a bit of discomfort," she says "but it's blink and you missed it. It's that quick. When you feel that zap, it means we're getting deep enough to actually achieve results, so once I tell patients that, they feel much better. I actually did my entire face and neck treatment without any pain medication and it's absolutely tolerable. Once you see the results, you forget all about the treatment itself."
Kim also says that patients love that results from Ultherapy are gradual. "My patients don't want to look 'done' or like they've had surgery. They love that the results are more of a gradual transformation because it's much more natural. It's one of those things where everyone notices, but no one can tell."
And, as Kim's special gift to you in the month of October, receive up to $1000 off Ultherapy when you attend our October 24th seminar! Ultherapy is also being featured as a monthly special – receive up to $750 off Ultherapy in October.
Interested in what Ultherapy can do for you? Schedule your free consultation today! Call (703) 870-3844 or email info@https://aviemedspa.com.