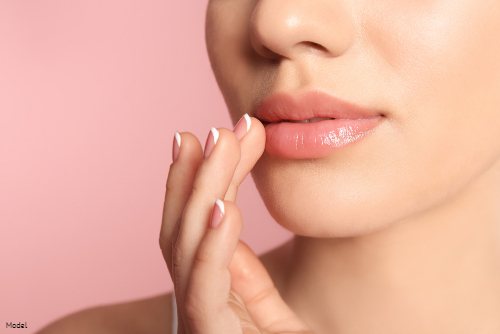 Pucker up for your most kissable lips yet! Lip filler and lip flips are currently all the rage in the aesthetic world. While both minimally invasive treatments provide fuller-looking lips, there are many differences between the two. So, how do I know which is right for me?
We're glad you asked! Here's a breakdown of the key differences between lip filler and lip flips so you can determine which treatment best fits your goals:
Difference #1: The material.
A lip filler treatment uses dermal filler, a soft, ultra-smooth gel containing a modified form of hyaluronic acid, a naturally occurring molecule in your body that helps skin cells retain moisture. Dermal fillers provide long-lasting benefits, replenishing lost volume and smoothing away lines and wrinkles with minimal to no downtime. On the other hand, a lip flip is performed using Botox®, a neurotoxin that temporarily relaxes facial muscles. With a lip flip, Botox relaxes the part of the muscle over the upper lip, causing it to flip slightly upward.
Difference #2: The results.
Lip fillers and lip flips, while both injectable treatments, offer different results. Lip fillers add volume and smooth out lip lines. Lip flips make your lips appear fuller and more defined without adding any volume. If you're looking for a more dramatic augmentation, lip fillers can provide up to a year of rejuvenation. A lip flip is a better option if you only want a subtle, temporary enhancement that lasts around three months.
Difference #3: The process.
Treatment times vary depending on your lip service of choice. A lip flip is quick and easy because it only involves a few units of Botox. During your treatment, your injector will inject Botox into the lip line of your top lip which causes it to flip upwards and appear fuller. Lip filler is a bit more invasive since the product needs to be injected into all areas of the lips. The benefit to this is that it's a very versatile treatment. Based on your desired results, you and your injector can choose how much filler you want injected.
The bottom line: It all depends on what you want to achieve.
While both options can provide a natural-looking lip enhancement, a lip flip can give you a taste of what a fuller smile looks like if you're not ready to commit to the long-lasting effects of filler. But if you are ready to take the leap and give filler your all, there are plenty of options available. At AVIE, we're proud to offer the FDA-approved Juvéderm family of dermal fillers, including Volbella® XC, a popular filler which smooths vertical lip lines while accentuating your natural lips and enhancing the cupid's bow. In fact, we've performed over 315,000 injectable treatments since 2009 — so we know a thing or two about meeting the unique needs of our clients!
We can't wait to meet with you to determine your ideal lip treatment! Give us a call at 703.737.0197 or request a consultation online today to get started.