May is Skin Cancer Awareness Month Leesburg, VA
We know that summer is right around the corner because it's Skin Cancer Awareness Month, which happens every May. How knowledgeable are you about skin cancer? Do you know what you need to do to protect yourself? Take our quiz to brush up on the basics. All statistics are provided by the Skin Cancer Foundation.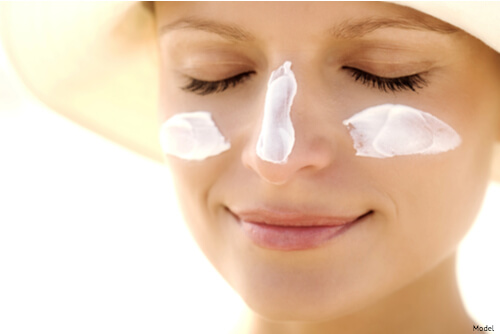 True or False:
Skin cancer is the most common type of cancer in the United States.
True. More than 9,500 people are diagnosed with skin cancer every day in the U.S. More than two people die of the disease every hour.
The more unprotected exposure you have to the sun, the higher your risk for skin cancer.
True. Sun damage is cumulative. Having five or more sunburns doubles your risk for melanoma. Fortunately, when melanoma is detected early, the five-year survival rate is 99%!
Most sun damage occurs when you're young.
False! Only about 23% of lifetime exposure occurs by age 18. Here's the breakdown of sun exposure by age:
Ages Average Accumulated Sun Exposure*
1-18 23%
19-40 47%
41-59 74%
60-78 100%
*Based on a 78-year life span
An estimated 90% of skin aging is caused by the sun.
True! We like to blame genetics, but the sun is the main culprit for our skin's aging. The good news is that you have control! People who use sunscreen with an SPF of 15 or higher daily show 24% less skin aging than those who do not use sunscreen daily. We love using medical-grade sunscreens because they not only protect your skin from UV damage, but are also packed with antioxidants, peptides and other nutrients to improve the look of your skin. For your convenience, you can shop at our online stores any time. Also, feel free to call us if you have any questions! We are here to help: 703.870.3844.
Tanning beds don't cause skin cancer.
False! The International Agency for Research on Cancer, an affiliate of the World Health Organization, includes UV tanning devices in its list of agents that are cancer-causing to humans. Indoor tanning devices can emit UV radiation in amounts 10 to 15 times higher than the sun at its peak intensity. What's more, people who first use a tanning bed before age 35 increase their risk for melanoma by 75%.
The good news is that you can reduce your risk for skin cancer by applying sunscreen today! You can also reverse sun damage and help trigger healthy new collagen and elastin growth by undergoing skin rejuvenation treatments with us, which includes (but is not limited to) BBL™ photofacials, Halo™ laser skin resurfacing, microneedling and chemical peels.
To learn more about protecting and renewing your skin, please call 703.870.3844. You can also request a consultation online today. See you soon!
— Kim