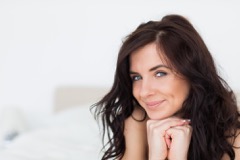 When non-invasive, non-surgical treatments aren't enough to re-awaken the look of your eyes, it's time to take the next step! At AVIE! Medspa, we are happy to offer Eyelid Lift surgery, also called blepharoplasty, in Leesburg to give you the dramatic rejuvenation you've been looking for.
Performed under local anesthesia by our Medical Director, board-certified plastic surgeon Dr. Khalique Zahir, eyelid lifts address drooping upper eyelid skin as well as the skin below the eyes. An Upper Eyelid Lift removes the skin on your eyelid that sags, making it easier to apply eye makeup and refreshing your overall look. A Lower Eyelid Lift removes excess skin under the eyes, reducing under eye puffiness, or "bags", and reducing fine lines and wrinkles.
Eyelid Lifts at AVIE! are the perfect treatment to take care of the delicate skin around the eyes. While other skin rejuvenation treatments can greatly improve the appearance of wrinkles and sagging skin, an Eyelid Lift in Leesburg can help completely refresh your appearance!


Learn more about blepharoplasty in Leesburg by calling our office at 703.870.3844 to schedule your consultation today!