Looking for a non-surgical, no downtime treatment that decreases signs of aging and improves the overall health of your skin? HydraFacial® is beneficial in so many different ways that here at AVIE! MedSpa we've dubbed it the Swiss army facial! HydraFacial can improve the appearance of hyperpigmentation, uneven skin tone, enlarged pores, oily skin, and even fine lines and wrinkles for a complete rejuvenation of your skin.
In an average session, HydraFacial in Leesburg takes only 30 minutes, making it the lunch break pick-me-up your skin is craving. The three-step process begins with the gentle exfoliation of the outer layer of skin cells, stripping away the dead layer and revealing the radiant new skin that lies beneath. Next, a glycolic and salicylic peel is applied to cleanse clogged pores and stimulate collagen production for a smooth and flawless texture. Finally, the skin is infused with a wide variety of beneficial ingredients to enhance facial fullness and hydrate the skin to provide long-lasting, beautiful results.
For even greater results, custom HydraFacials are also available. These individualized treatments may take slightly longer, but can target specific skin issues that may be disturbing your skin. During your initial consultation, our expert staff will evaluate your skin and make recommendations to help you decide which HydraFacial is right for you.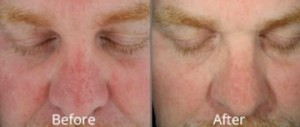 To find out if you are a good candidate for HydraFacial in Leesburg, call 703.870.3844 and schedule your initial consultation today!