Perfect Your Pucker for Valentine's Day!
Leesburg, VA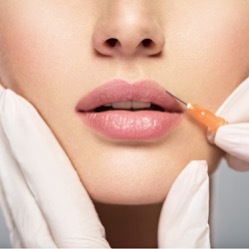 I can't think of a better excuse for an injectable session than Valentine's Day. Then again, do you ever need an excuse to look your best?
FDA-approved dermal fillers and Botox® are trusted cosmetic treatments that have helped millions of women and men to look and feel their best year after year without surgery. They are tough to beat for their winning combination of almost immediate satisfaction and minimal downtime.
Here are a few of my all-time-favorite options for revitalizing your look with injectables:
Pucker up!
You have two options for enhancing your pout. If you want to enhance your pucker without giving away your secret, Volbella® is the way to go. Volbella is formulated to be a thinner consistency for revealing subtle benefits like smoothing vertical lip lines and accentuating your cupid's bow and lower lip. For those who desire more dramatic lip augmentation, Juvéderm is our go-to workhorse. This award-winning filler contains bigger hyaluronic acid molecules to achieve noticeable, long-lasting enhancement.
Lose the lines and look natural!
Did you know that some people are still afraid that Botox® will make their forehead look frozen? It's kind of a myth, because Botox is truly an invisible treatment. All it does is relax the muscles underneath your skin, preventing wrinkles from forming. Botox is the world's most popular non-surgical cosmetic treatment, but I still think it's underrated. It's absolutely wonderful for reducing crow's feet and smile lines around the eyes, not just the forehead. It can take years off your appearance, and no one will have any idea you had it done. It's truly that simple.
Get cheeky!
Enhancing the volume in your cheeks with Voluma™ is such a powerful beauty aid! It provides a subtle, natural-looking lift to your face, smoothing lines and wrinkles for a refreshed, vibrant look. The best thing about Voluma is that it can last up to two years per treatment so you get quite a bang for your buck.
There are so many ways to bring out your best for Valentine's Day! For a dewy glow, schedule a HydraFacial®. If you're hoping to correct a few spots here and there, a BBL™ photofacial will help you achieve a more even tone with no downtime. To discover the ideal treatments for you, we can't wait to help! Please call 703.870.3844 or request your personal consultation today.
-Kim