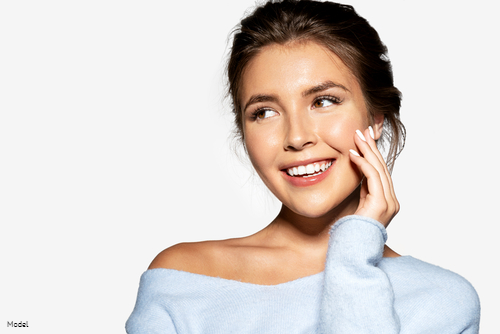 The best your skin can be in 2023 starts with AVIE! It's a new year for new ways to achieve radiant, healthy skin that lasts. At AVIE!, we believe combination treatments to be highly beneficial. By providing a synergistic boost of stimulation within the skin, a skin combo treatment can deliver enhanced aesthetic results.
One of our favorite skin treatment combinations to perform features two state-of-the-art lasers by Sciton®: BBL® HERO™ and MOXI®. Here's how these two skin rejuvenation treatments work separately to reveal brighter, younger-looking skin, and come together to maximize your complexion benefits:
BBL HERO
Beautiful skin from head to toe is possible with BBL HERO. Featuring the same photofacial technology as BBL (broadband light), BBL HERO not only treats the face but larger areas of the body as well. With little to no downtime, BBL HERO can reduce issues of hyperpigmentation and diminish signs of aging on the arms, back, legs, décolleté and more. What really sets this non-invasive skin treatment apart is its ability to deliver results four times faster with three times the peak power and twice as much cooling as traditional IPL (intense pulsed light) photofacials. Its efficiency makes it stand out as the most advanced IPL photofacial technology on the market.
How it works: BBL HERO uses broad-spectrum visible and infrared light to selectively heat layers of the skin without breaking the surface. This process stimulates your skin's natural healing response while also getting rid of unwanted sun damage, redness, age spots, uneven skin tone, small veins, dull skin and more.
Number of treatments: For your best results, we recommend undergoing a series of BBL HERO treatments. You can also achieve long-lasting radiance by incorporating seasonal photofacials into your regular skin care routine.
MOXI
Radiant skin is always in at every age with MOXI. This gentle yet effective laser resurfacing treatment delivers impressive results with little to no downtime. The MOXI laser features three intensities to deliver tailored improvements to tone and texture, light sun damage and skin aging and uneven pigmentation on the face, neck, chest, arms or hands. Depending on your unique needs and goals, you may opt for a light complexion refresh with a low intensity or a more intense skin renewal with a higher setting. If you're just starting your professional skin care journey, MOXI is an ideal prejuvenation treatment, staving off visible signs of aging before they appear.
How it works: The MOXI laser device is gently rolled across your treatment areas, emitting a well-tolerated prickly sensation as the laser penetrates your skin. Since a full-face treatment only takes 12-15 minutes, MOXI is considered a gentle "lunchtime" procedure.
Number of treatments: You can expect remarkable results in just one to two MOXI treatments. With regular maintenance treatments, you can maintain the appearance of healthy skin over the long term.
BBL HERO/MOXI combination
One of the best ways to improve skin tone and texture while increasing cell turnover is with a BBL HERO and MOXI combination treatment. BBL HERO will first deliver broadband light energy to break up pigmentation in the skin without damaging its surface. It is immediately followed by MOXI which uses non-ablative laser technology to create a more even skin tone. Both methods of laser skin renewal stimulate your body's natural healing response and trigger new collagen growth, revealing stronger, more youthful-looking skin. During your consultation, we will help design the ideal BBL HERO/MOXI combination treatment to address your specific skin concerns.
No matter which treatment you choose to help reach your goals, we will work closely with you to assess your unique needs and achieve your desired results. We can't wait for you to get started! Give us a call today at 703.737.0197 or request a consultation online to learn more.