Skin Boosters for Tired Summer Complexions Leesburg, VA
We want you to be vigilant about protecting your skin from the sun because the sun is truly the biggest ager you'll ever face in life. The sun ages you more than Father Time or genetics! Your beauty is literally in your hands with the daily application of a broad spectrum SPF!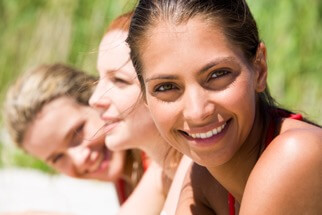 Preaching aside, we do provide skin rejuvenating treatments here at AVIE! that are suitable for even sun-exposed skin (gasp!). Here's a look at five top skin boosters for a healthy summertime glow.
HydraFacial®
Just 30 minutes is all you need to experience this zero-downtime glow-getter. HydraFacial combines water with active ingredients along with patented vortex suction technology to exfoliate and clear away dead, dull skin cells and other impurities before infusing your dermis with potent restorative agents, depending on your particular needs. We'll tailor your HyrdraFacial to your unique complexion, and you'll love walking away feeling refreshed and radiant with smoother, brighter, luminous skin!
Vivace™ Fractional Micro Needle RF
We are so excited about this advanced microneedling treatment, we can hardly contain ourselves! Vivace is the treatment to beat for skin tightening and other complexion improvements. You'll be amazed how much smoother, brighter, and more evenly-toned your complexion will be after just one treatment. Best of all, there's almost no downtime, so you'll be able to go out even the night of your treatment if you want!
Chemical Peels
The best thing about chemical peels is that they are ideal for almost every skin type and color. We'll apply a special acid formulation to your skin, which gently penetrates to exfoliate your outermost layer, revealing your refreshed, youthful skin underneath. Depending on your needs, we may schedule a series of treatments to get your best results. And mild peels involve little to no downtime, so they are easy to fit into your busy schedule!
Dermaplaning
A fancy word for shaving, dermaplaning primes your skin for optimal absorption of medical-grade skin care products or our professional skin rejuvenation treatments. This gentle exfoliating treatment removes your dead, dull skin cells and fine peach fuzz, revealing a glass-like texture and radiance to your skin with zero downtime.
We are here to help you revive your dull summer skin! Get your glow on today by calling 703.870.3844 or request your personal consultation today!
— Kim