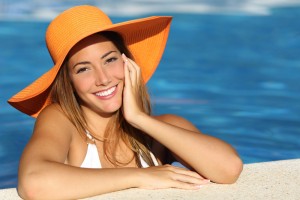 Summertime means your skin is going to be exposed to the sunlight throughout the day. Many skin rejuvenation treatments require you to stay out of the sun to avoid irritating the skin, but not microtherapy. At AVIE!, microtherapy is one of our favorite treatments for the summer because it doesn't take away the skin's natural protective layers. After your treatment, you can safely go out in the sun (with sunscreen of course!) without having to completely cover up.
Microtherapy, also known as microneedling in Leesburg, creates tiny injuries to the skin to promote healing and trigger collagen and elastin production for vibrant, more youthful-looking skin. This perfect summertime treatment can improve the appearance of wrinkles, enlarged pores, hyperpigmentation, acne scars, and more.
Although microneedling is a great treatment on its own, we love combining it with facials and other skin rejuvenation treatments for longer-lasting results. Leesburg microtherapy treatments also increase the absorption of vitamins and minerals in your skincare products for healthier, more nourished skin. Refresh and rejuvenate your skin while still being able to enjoy the summer sun!
Schedule your consultation for microtherapy at AVIE! Medspa by calling 703.870.3844!