The Truth about Aging Gracefully Leesburg, VA
Your goal is to look effortlessly radiant at every age, to "age gracefully," as they say. But the problem with this common aspiration is that too many people mistake "aging gracefully" with not aging at all, which is impossible.
"If your goal is to completely erase any sign of aging, so the moment you notice a line, you run to your injector for more dermal fillers, you're in danger of looking unnatural," says AVIE! founder and owner Kim Marrinetto, RN and Master Aesthetician. "My goal is to bring out your best by working with your natural contours, so you can achieve a younger-looking radiance that looks super flattering and natural, not 'overdone.'"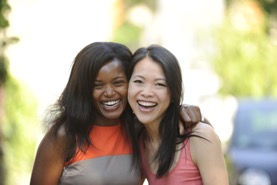 To help you achieve natural-looking luminosity at every age, here are a few proven "tricks" Kim recommends adding to your beauty arsenal for periodic maintenance treatments:
Ultherapy®
This non-invasive ultrasound treatment hits the pause button on aging by sending potent ultrasound energy to the deep layers of your skin. "Ultherapy provides a subtle and gradual lifting and tightening of the skin, so you look younger and refreshed," says Kim. "If you're looking for a noticeable lifting and tightening without looking like you've had anything done, Ultherapy is probably a great fit for you!"
BBL™ Photofacials
The Forever Young BBL™ photofacial is an acclaimed and clinically proven skin treatment that stimulates your skin with non-invasive light energy, so there's no downtime. A series of Forever Young BBL treatments has been shown in a Stanford University study to reveal skin that looks up to 10 years younger than its actual age. This is attributed to clinical evidence which shows that BBL changes the molecular structure of skin cells to behave like younger skin cells! That's serious rejuvenation! Best of all, "it's an all-natural treatment that uses your body's own healing power," says Kim.
Microneedling with platelet-rich plasma (PRP)
Radiant, younger-looking skin is all about renewal. "Any treatment that stimulates skin renewal is a winner for fighting the signs of aging," says Kim. For textural improvements to your skin, microneedling with PRP, which is a super potent healing portion of your blood, is a tremendously effective tool. Microneedling creates tiny injuries to your skin, spurring cellular renewal, and when you add revitalizing PRP to the mix, you get a synergistic boost of renewal for diminished scars, stretch marks, lines and wrinkles, and much more.
Botox and dermal fillers
It would be a crime to leave out injectables in a blog about aging gracefully! The world's most popular non-surgical cosmetic treatments, Botox® and dermal fillers help to reverse the signs of aging with little to no downtime, and they provide almost immediate benefits (Botox can take up to two weeks for results, while dermal fillers provide immediate benefits). For their ease and effectiveness, smoothing away lines and replenishing lost volume, it's hard to come close to the immediate gratification of injectables.
For more tips and tricks for aging beautifully, stick with the pros at AVIE! We've got all your needs covered — seriously! AVIE! proudly serves clients from Leesburg, Ashburn, and all over NoVA. Call 703.870.3844 or complete our online consultation request form today.
— Kim