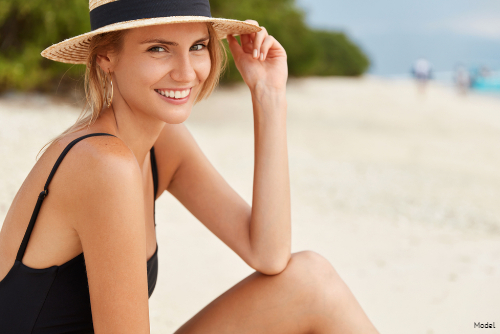 After months of cozy hibernation under chunky sweaters and puffy coats, it's almost time for us to be back on display showing off our best summer skin! We can hardly wait for the sunshine, but in the meantime, we're taking full advantage of state-of-the-art aesthetic treatments to help us get toned, trim and glowing.
When it comes to getting summer ready, time is of the essence. The good news is, when you start now, there are plenty of ways to achieve head-to-toe rejuvenation by beach season — here are just a few:
CoolSculpting®
When even the most rigorous diet and exercise regimens aren't enough to slim down stubborn areas of fat, it may be time to turn to CoolSculpting, the world's leading non-invasive fat reduction treatment. FDA-cleared since 2010, this proven solution for freezing away unwanted fat on almost any area of the body, including the chin, arms, belly, back and thighs, affords gradual, natural-looking results in the weeks and months following your treatment. Since your most transformational results will take the most amount of time, it is best to schedule your CoolSculpting treatments ASAP to get started on your summer body goals. CoolSculpting works by using a proven scientific process called cryolipolysis to freeze your targeted fat cells. Once frozen, it takes time for the fat cells to die off and be expelled by your body. While you may start to see changes as quickly as three weeks after your treatment, it may take up to three months to reveal optimal results. Your body will continue to flush out fat cells for up to four months after treatment.
EMSCULPT NEO®
Achieving a slimmer and more sculpted appearance is now possible with the help of EMSCULPT NEO, the first and only non-invasive body sculpting procedure that provides simultaneous fat elimination and muscle building in a convenient 30-minute treatment. EMSCULPT NEO is FDA-cleared to tone and strengthen targeted muscle groups on the abdomen, buttocks, inner/outer thighs and anterior-posterior thighs without downtime. By emitting radiofrequency (RF) and high-intense focused electromagnetic (HIFEM®) energies, EMSCULPT NEO helps build up to 25% more muscle, while reducing subcutaneous fat by 30% AND visceral fat by 17%. This revolutionary treatment can also be used to help repair rectus diastasis, a condition where a woman's abdominal muscles separate after pregnancy/childbirth. What's more, EMSCULPT NEO can treat patients with a BMI of up to 35 — meaning a wide range of body types can benefit! Optimal results are typically seen with four 30-minute treatments, scheduled five to 10 days apart.
BBL® HERO™
As the most advanced form of intense pulsed light (IPL) technology, BBL HERO is designed to correct sun damage, redness and other signs of aging anywhere on the face or body within minutes. BBL (broadband light) is the gold standard for correcting hyperpigmentation concerns like freckles and age spots as well as diminishing redness, rosacea and small veins. With BBL HERO photofacial, you can achieve noticeable results four times faster, with three times the peak power and twice as much cooling as traditional IPL treatments. Since BBL HERO is non-invasive, it can stimulate your skin from deep within without breaking the surface, so there's no downtime involved. Best of all, BBL HERO can reveal younger-looking, visibly healthier and brighter skin with just one treatment!
MOXI®
The ultimate "prejuvenation" tool, MOXI fractionated laser can help stave off visible signs of aging before they even appear. As the device gently rolls across your targeted areas, it creates thousands of tiny treatment channels in your skin. Whether you're looking for radiant glow with minimal downtime or more intense renewal with a bit more recovery time, MOXI features three intensities to deliver tailored improvements to the tone and texture of your skin. Safe for all skin types all year-round, MOXI can help correct uneven pigmentation, light sun damage and skin aging on the face, neck, chest, arms and hands in a gentle, 12- to 15-minute treatment.
We can't wait to bring out your best this summer! Get bikini ready at AVIE! today by calling 703.737.0197 or requesting a consultation online.