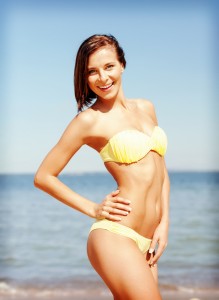 With summer right around the corner, now is the time to get the body you you're proud to show off! Find out which body contouring treatment from AVIE! MedSpa and Laser Center will help you achieve your desired figure. If diet and exercise alone aren't giving you the results you have been working for, we can help!
AVIE! MedSpa and Laser Center offers a variety of FDA-cleared body contouring treatments, including CoolSculpting® non-surgical fat reduction, UltraShape® non-invasive body shaping and ProLipo™ Laser Liposuction. Our treatment options for skin tightening and cellulite includes the new VelaShape® III. Each of these treatments provides our Leesburg clients with natural-looking and noticeable results. Our newest treatments, UltraShape and VelaShape can have you looking your best in as little as six weeks!
Sculpt, tighten and be beach ready in as little as six weeks with our new body contouring treatments! UltraShape reduces unwanted fat after just three treatments, while improving the shape and contour of the body with ultrasonic technology. VelaShape III treats cellulite and improves the skin's texture all with no downtime or pain!
Are you ready to show off your favorite summer fashion? Non-invasive CoolSculpting at AVIE! MedSpa permanently reduces fat cells by freezing the cells underneath the skin's surface. The surrounding area is left unharmed, and your body naturally eliminates the dead fat cells over the following weeks. With over 1 million treatments performed worldwide, CoolSculpting is an international success with proven results. As a CoolSculpting Certified Provider, AVIE! has performed over 700 procedures, and is the #1 MedSpa in Northern Virginia for CoolSculpting.
With a variety of body contouring options, AVIE! MedSpa and Laser Center is sure to have something to suit your body contouring needs, and combination treatments can address a number of body concerns and areas.
Call 703.870.3844 to schedule your consultation with AVIE! MedSpa and Laser Center in Leesburg, VA to discuss which option will give you your desired results.