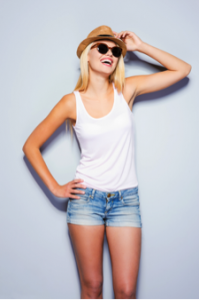 AVIE! MedSpa and Laser Center is excited to introduce UltraShape to our clients! As one of the latest advancements in body contouring technology, this state-of-the-art treatment permanently reduces and eliminates fat cells.
UltraShape in Leesburg, Virginia is a no downtime and non-invasive FDA-cleared treatment that reduces unwanted fat on the abdomen, outer thighs, muffin top, love handles and flanks. UltraShape is unique in that it uses pulsed, ultrasonic energy to selectively reduce fat cells at a controlled depth, destroying the cells immediately, without any pain. The fat cells are later eliminated through the body's natural metabolic system. Leesburg UltraShape reduces unwanted fat and improves the shape and contour of the body in as little as three treatments with no pain and without harming the surrounding nerves, skin or tissue near the treated area.
AVIE! MedSpa and Laser Center is proud to offer this safe and effective, no downtime body-contouring treatment to our clients in addition to CoolScultping® and ProLipo™ Laser Liposuction. With a variety of body contouring options available at AVIE! many concerns can be addressed in one place and at one time. Don't be shy, come find out about UltraShape!
Look your most in shape with UltraShape at AVIE! MedSpa and Laser Center! For more information and to schedule a consultation call 703.870.3844 today!